400 gr
Regular price
€5,00
Sale price
€5,00
Unit price
per
Sale
Sold out
Notre Mix Pain aux graines sans gluten est un mélange de farines pour réaliser un pain de graines ou des crackers. Il ne vous suffira que d'ajouter 3 ingrédients : de l'eau, de l'huile d'olive et du sel.
Recette pour un pain ou deux petits pains
1. Versez le mix dans un bol.
2. Ajoutez 600ml d'eau tiède et mélangez.
3. Ajoutez 10g de sel et mélangez pour obtenir une pâte souple et homogène.
4. Façonnez la pâte en boule(s) sur une surface farinée.
5. Laissez reposer 60min sous un linge et enfournez 45min à 185°C.
Méthodologie longue
Assurez-vous que votre mix de farine sans gluten est bien mélangé et homogène, prêt à être utilisé. Pesez 10g de sel et préparez 600 ml d'eau tiède à portée de main.
Versez le mix de farine sans gluten dans un bol.
Versez 600 ml d'eau tiède dans le Mix pour pain, tout en mélangeant vigoureusement avec un ustensile de cuisine ou sa main.
Ajoutez 10g de sel et continuez à mélanger pour obtenir une pâte souple et homogène.
Saupoudrez légèrement votre plan de travail propre avec de la farine sans gluten pour éviter
que la pâte ne colle. Déposez délicatement la pâte sur le plan de travail et façonnez-la en boule. Pour cela, pliez les bords de la pâte vers le bas-centre, en tournant légèrement la boule sur le plan de travail pour obtenir une forme arrondie.
Placez la boule de pâte dans un moule ou sur une plaque de cuisson préalablement farinée.
Couvrez le moule à pain d'un linge propre et laissez-le reposer pendant environ 45 à 60min.
La pâte va gonfler.
Préchauffez votre four à 185°C (thermostat 5-6).
Une fois la fermentation terminée, faites des incisions décoratives sur le dessus du pain à l'aide d'un couteau. Enfournez le pain dans le four préchauffé et faites cuire pendant environ 45 minutes, ou jusqu'à ce que le pain soit bien doré et sonne creux lorsque vous tapotez le dessous.
N'oubliez pas que la préparation de pains sans gluten peut être légèrement différente de celle des pains traditionnels en raison de l'absence de gluten. Soyez patient et expérimentez pour trouver la meilleure méthode qui fonctionne pour vous et votre four sans gluten. Bonne dégustation !
Ingredients & allergens

farine de riz complet*, farine de millet blond*, fécule de tapioca*, fécule de pomme de terre*, farine de sarrasin*, psyllium*, levure sèche, gomme de guar*, love

Allergens : -

* In accordance with EU Regulation 1169/2011 – Products from EU/non-EU Organic Farming
Nutritional value

For 100gr:
Energy (Kcal): 328
Energy (Kj): 1387
Proteins (g): 5.8
Fats (g): 2
- of which sugars (g): 1.6
Carbohydrates (g): 71.3
- of which saturated fats : 0.3
Fibers (g): 7.2
Salt (g): 0
Features

Aroma : -
Taste : -
Aspect : Sachet kraft
Conservation

Time : 180 jours
Conserver le produit au sec et à l'abri de la chaleur, maximum 20°C
Dimensions & general information

Sales unit : 1
EAN : 5407003515466
Ref : MIX01
Product dimensions : 190x85x45 cm
Packaging dimensions : 190x85x45 cm
View full details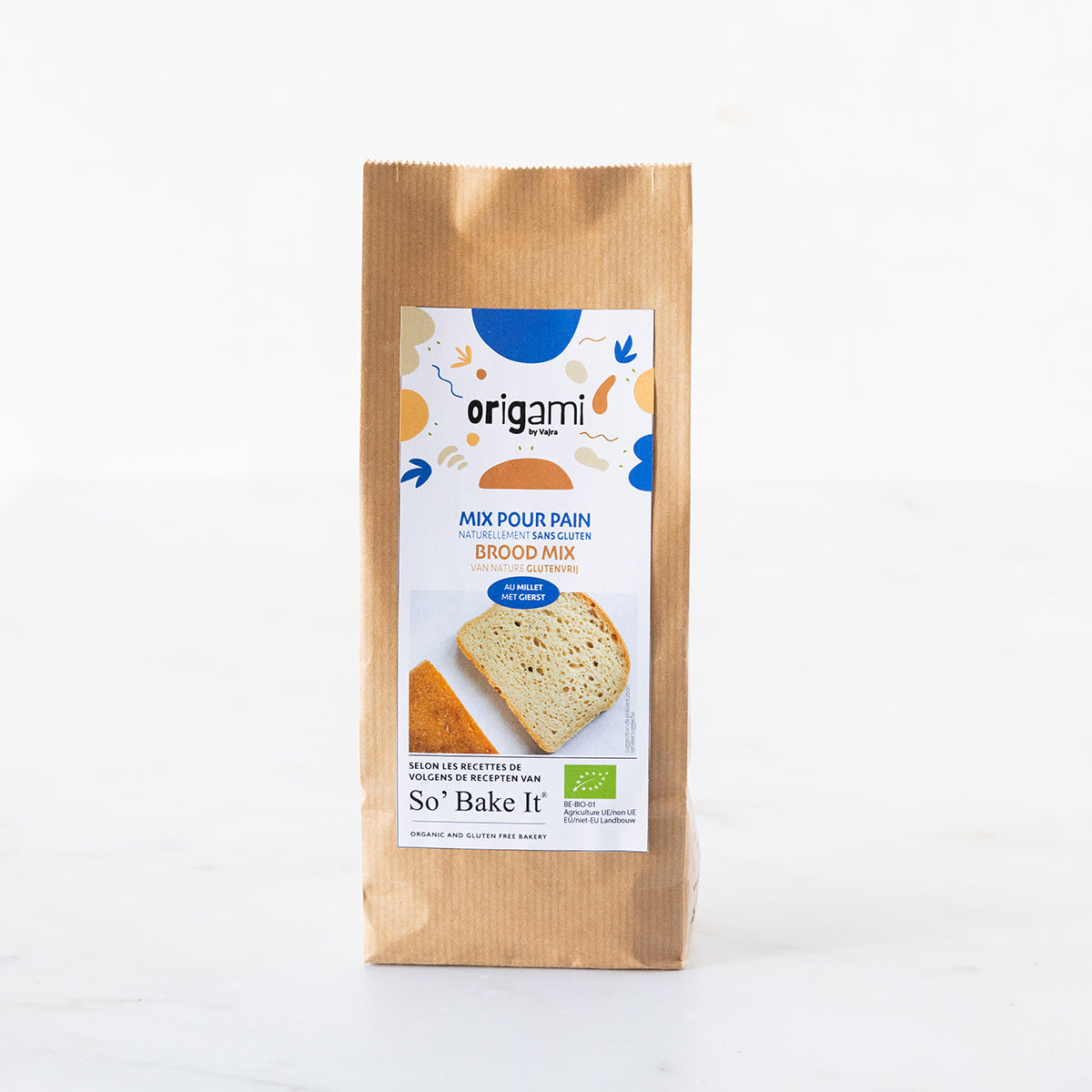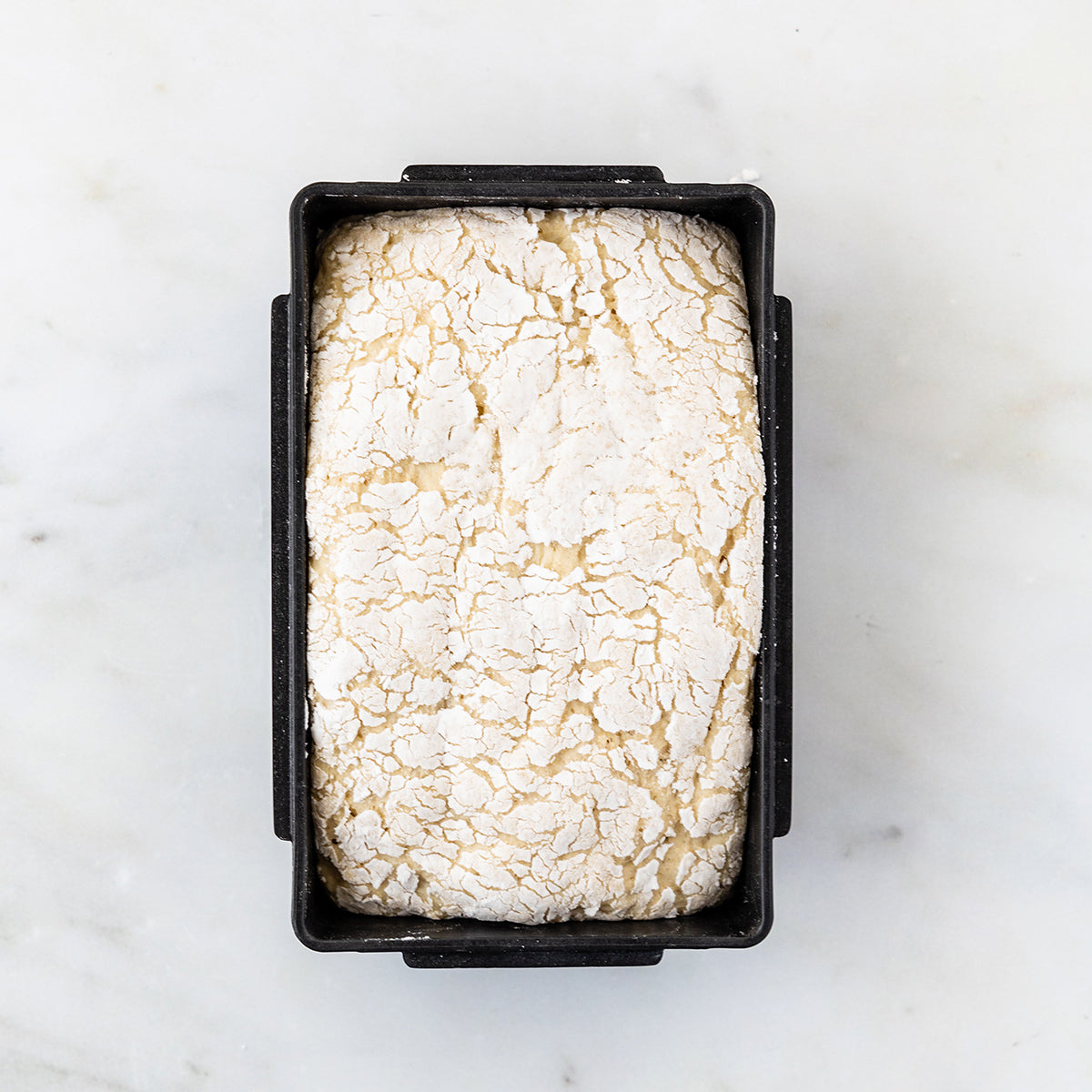 Passionate love
We create each product with care, putting all our love and passion into it to offer a unique experience in every bite.