Organic gluten-free bakery
Since 2013, our artisanal bakery, So'Bake It , has been committed to offering you delicious, healthy and environmentally friendly products. We specialize in gluten-free and 100% organic bakery and pastry.
A passionate and committed team, concerned about the well-being of our customers and the planet, is at the origin of our brand.
Our resellers
Discover our delicious gluten-free products also available in your favorite stores!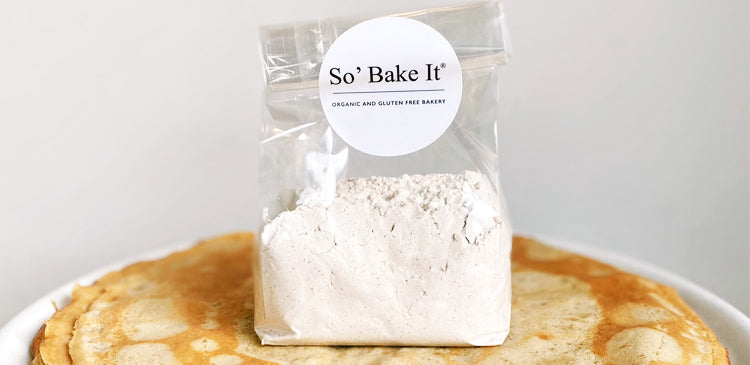 It's back to school !
From 30€ purchase,
receive 1 Crepe Mix.
You ask yourself questions
Gluten? Our labels? Our quality?
Schedules Monday: closed Tuesday: closed Wednesday: closed Thursday: 10 a.m. - 6 p.m. Friday: 10 a.m. - 6 p.m. Saturday: 10 a.m. - 4 p.m. Sunday: closed

Schedules Monday: closed Tuesday: closed Wednesday: closed Thursday: 10 a.m. - 6 p.m. Friday: 10 a.m. - 6 p.m. Saturday: 10 a.m. - 4 p.m. Sunday: closed

Good news We are relaunching the workshops at the bakery from Wednesday April 5. How to make sourdough bread *Some theoretical explanations on sourdough *Discoveries of gluten-free flours *Making sourdough...

Good news We are relaunching the workshops at the bakery from Wednesday April 5. How to make sourdough bread *Some theoretical explanations on sourdough *Discoveries of gluten-free flours *Making sourdough...

Choose our gluten-free crepe mix (4 people) Add 150g of melted butter Add 3 whole eggs Add 600 ml of milk Add 1 tablespoon of vanilla sugar

Choose our gluten-free crepe mix (4 people) Add 150g of melted butter Add 3 whole eggs Add 600 ml of milk Add 1 tablespoon of vanilla sugar