400 gr
Regular price
€5,10
Sale price
€5,10
Unit price
per
Sale
Sold out
Notre Mix Pain aux graines sans gluten est un mélange de farines pour réaliser un pain de graines ou des crackers. Il ne vous suffira que d'ajouter 3 ingrédients : de l'eau, de l'huile d'olive et du sel.
Recette pour un pain aux graines
1. Versez le mix dans un bol.
2. Ajoutez 350ml d'eau tiède, 50gr d'huile et 10g de sel.
3. Mélangez jusqu'à incorporation complète.
4. Mettez la pâte dans un moule, tassez et laissez reposer 30min.
5. Enfournez 60min à 165°C.
Méthodologie longue
Dans un grand bol, versez le mix de graines sans gluten. Ajoutez les 10g de sel et mélangez rapidement avec une cuillère en bois pour bien répartir le sel dans le mélange de graines.
Versez les 350 ml d'eau chaude filtrée et les 50g d'huile d'olive dans le bol contenant les ingrédients secs. Mélangez avec une cuillère en bois ou une spatule jusqu'à ce que tous les ingrédients soient bien incorporés. La pâte doit être collante.
Graissez légèrement un moule à pain ou un moule à cake avec de l'huile d'olive ou tapissez-le de papier sulfurisé.
Versez la pâte aux graines dans le moule préparé. Utilisez une spatule ou vos doigts pour bien tasser la pâte et la rendre uniforme.
Laisser reposer 30 min
Préchauffez votre four à 150°C pour une cuisson plus longue ou à 165°C pour une cuisson plus rapide.
Enfournez le moule dans le four préchauffé et faites cuire le pain aux graines pendant
environ 1h30 minutes, ou jusqu'à ce qu'il soit bien doré sur le dessus et que la croûte soit croustillante. La durée exacte de cuisson peut varier en fonction de votre four, donc vérifiez régulièrement le pain à partir d'environ 1 heure de cuisson.
Une fois cuit, sortez le pain aux graines du four et démoulez-le délicatement sur une grille.
Laissez-le refroidir complètement avant de le trancher et de le déguster.
Ce pain aux graines sans gluten est riche en saveurs et en nutriments, grâce aux graines de lin belge. Il est délicieux servi avec du beurre, de la confiture ou en accompagnement de vos plats préférés. Bon appétit !
Ingredients & allergens

Flocons d'avoine*, graines de tournesol*, graines de lin belge*, psyllium*, graines de courge*, love

Allergens : -

* In accordance with EU Regulation 1169/2011 – Products from EU/non-EU Organic Farming
Nutritional value

For 100gr:
Energy (Kcal): 449
Energy (Kj): 1883
Proteins (g): 16.8
Fats (g): 26.5
- of which sugars (g): 1.1
Carbohydrates (g): 35
- of which saturated fats : 3.1
Fibers (g): 18.4
Salt (g): 0.02
Features

Aroma : -
Taste : -
Aspect : Sachet kraft
Conservation

Time : 180 jours
Conserver le produit au sec et à l'abri de la chaleur, maximum 20°C
Dimensions & general information

Sales unit : 1
EAN : 5407003515466
Ref : MIX01
Product dimensions : 190x85x45 cm
Packaging dimensions : 190x85x45 cm
View full details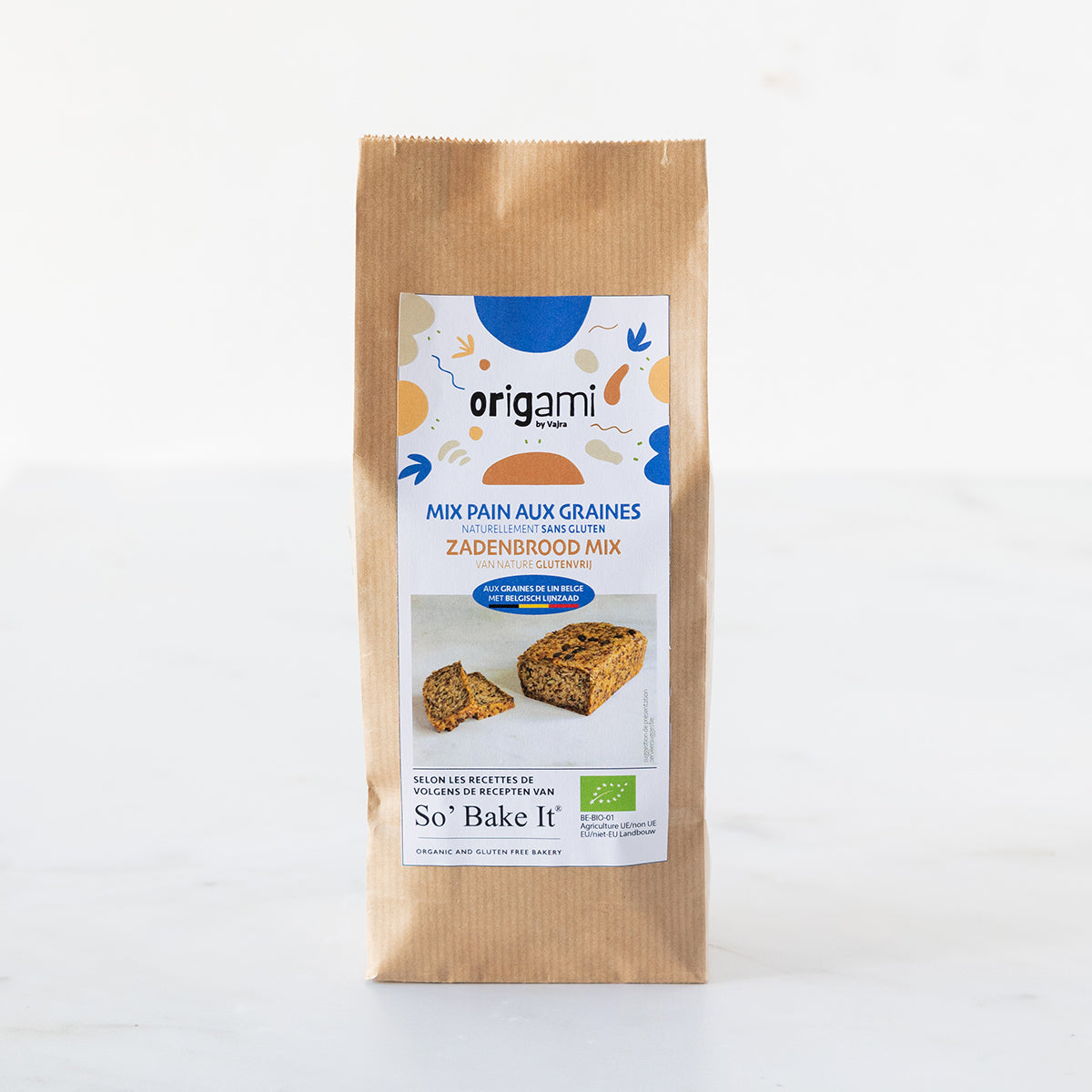 Passionate love
We create each product with care, putting all our love and passion into it to offer a unique experience in every bite.